Philippe Coutinho's failed Barcelona career close to an end
Brazilian forward Philippe Coutinho is set to leave Barcelona in the upcoming transfer window after six years of an unsuccessful spell with the Spanish club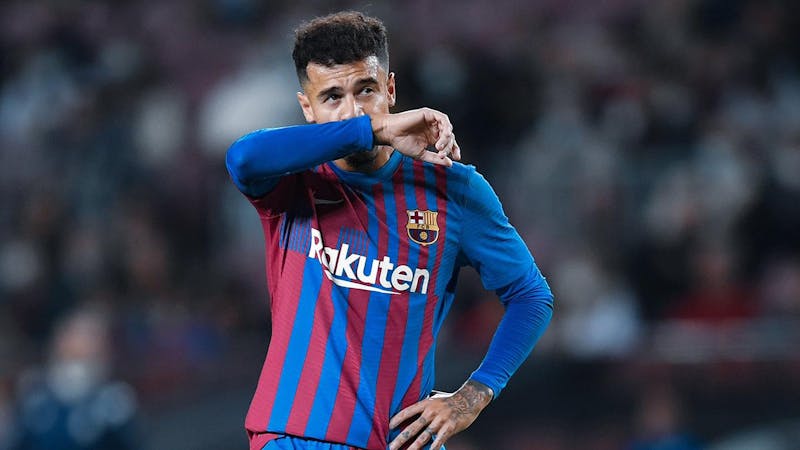 Leaving English football for Barcelona in 2017 was one of Philippe Coutinho's biggest dreams, where he was presented with the opportunity to play alongside some of the world's most talented players, including Lionel Messi, Andrés Iniesta, and many others.
Although he made his long-awaited move to the Spanish club in a world-record deal worth an initial £105 million, rising to £142 million in clauses, his decision seems to be one of the most ill-advised in his career despite winning trophies in Catalonia.
The 29-year-old is set to join Aston Villa on a permanent basis after a second loan spell since joining Barcelona. Manager Steven Gerrard regards him as crucial for the future following his excellent performances on loan at the Premier League club this season.
Following lengthy talks with Barcelona a few weeks ago, Aston Villa's board of directors has reached a full agreement to sign Philippe Coutinho on a permanent basis. After completing his paperwork, the Villans will pay Barcelona a fee of around €20 million for his transfer.
Philippe Coutinho's fall from grace
The Brazilian attacker was one of the Premier League's best players before joining Barcelona in the 2018 January transfer window, but he flopped after two years of mediocrity at the Blaugrana.
This came about despite Coutinho earning an immediate starting spot in his Barcelona debut season, appearing in 16 of the club's remaining 18 league games in the second half of the 2017 season.
Though he had an impressive start, being directly involved in 14 goals (eight goals and six assists), the Brazilian's value at Camp Nou slumped when he scored only five league goals and assisted two in 34 appearances the following season.
His high hopes of becoming the Spanish club's next Andrés Iniesta were quickly dashed, resulting in a season-long loan spell at Bayern Munich in the German Bundesliga.
The talented Brazilian winger found a new lease of life at Bayern Munich, where he racked up eight league goals and six assists in 23 appearances, 15 of which he started.
One of his defining moments with the German Bundesliga team was winning a treble (Bundesliga, DFB-Pokal, and UEFA Champions League) in 2019, in which he scored two late goals and provided an assist against his parent club Barcelona in the Champions League quarter-final.
His outstanding performance as a vital member of the Bayern Munich team put an end to Barcelona's plan to make his loan move to Bayern Munich permanent, as he was recalled the following season.
A return to Barcelona in 2020 created another conundrum for the forward, who was hampered by a lengthy injury which restricted him to just eight starts in La Liga.
After the injury, the Brazilian was reduced to a bench warmer by then manager Ronald Koeman the following season, starting five matches in 16 appearances before being replaced by Netherlands international Memphis Depay.
Following Xavier Hernández's appointment as the new manager of Barcelona in the second half of the season, Philippe Coutinho signed a six-month loan deal with Aston Villa, ending speculation that he would return to Liverpool.
A new Philippe Coutinho
Philippe Coutinho's move significantly boosted his confidence after debuting in a 2-2 draw at Villa Park, where he scored a late equalizer against Manchester United.
Since then, he has become an integral part of Steven Gerrard's team, starting 14 of Aston Villa's 16 league games and has scored four league goals and assisted three for the Premier League club.
Gerrard and Villa fans have been pleased with his contributions since his arrival and will be pleased to have secured the services of the talented Brazilian player.
"You can see the fans are delighted to watch him, and I am delighted to have him, "said Steven Gerrard in a post-match conference after a 2-0 victory against Southampton.
"When you are dealing with this level of talent, I think it is important he is comfortable in the environment. The players and staff have made him feel really welcome.
"It is important his family feel welcome too because he has been to a place in Barcelona where yes, he has been successful in terms of what he will take away, but he's had difficult periods as well."
Coutinho has also reclaimed his place in the Brazilian national team since joining Aston Villa and is said to be happy at the Premier League club, according to football transfer expert Fabrizio Romano.
The permanent transfer of Philippe Coutinho to Aston Villa means Barcelona have lost a significant amount of money compared to what they paid for the player in 2017.