Juventus ahead of Europe elites in race for wonderkid, Lesley Ugochukwu; But who is he?
Who is Lesley Ugochukwu, and why are football's superpowers circling Roazhon Park to cart away France's newest priced jewel?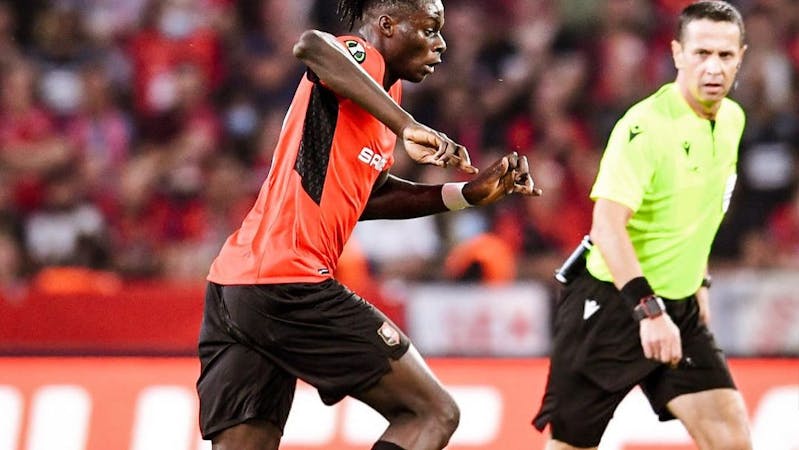 Juventus are rigorously monitoring the progress of 17-year old wonder kid Lesley Ugochukwu, according to reports from Italian media, Calciomercato and TuttoMercatoWeb. 
Despite racking less than 500 minutes of playing time since his professional debut in April 2021 for French side Stade Rennes, Ugochukwu has triggered the radar of European elites as they seek to capture the next Camavinga, another teenage phenomenon who now plies his trade in the white half of Madrid.
But with a name that so conspicuously exposes his Nigerian roots, who is Lesley Ugochukwu, and why are football's superpowers circling Roazhon Park to cart away France's newest priced jewel?
 Who is Lesley Ugochukwu?
Lesley Ugochukwu has been rated as a greater prospect than Camavinga
Born March 26, 2004, Lesley Chumuanya Ugochukwu is among the 21st-century crop of talents that have begun to imprint their legacies in the memorial sands of football. 
The French national of obvious Nigerian origin was born in Rennes and grew up near Roazhon Park, the home of the current club, Stade Rennes. This young talented midfielder was discovered by Mathieu Le Scornet, assistant of Rennes former manager Julien Stéphan.
He has since donned the Red and Black of Rennes from under-9 level, spearheading the 2004 generation of the Rennes academy, a class succeeding that of Camavinga, Rutter, Assignnon, and Truffert. This continuity is well-documented proof that Rennes and France football as a whole is rich in talent discovery as well as subsequent development. 
Ugochukwu signed his first professional contract on Wednesday, July 1, 2020, at just sixteen, three months and four days. The signature was automatically activated at the end of his aspiring contract.
Ugochukwu signed his first professional contract at 16
The native of Rennes thus became the second-youngest player in the club's history to sign a professional contract, behind Eduardo Camavinga. The latter had for his part signed, in 2018, at the age of sixteen years, one month and four days.
He shot to international consciousness on May 9, 2021, when he made his full debut and first start for Rennes against then Champions League finalist, PSG. Before this, he had just 1 minute of professional football on his belt.
Due to this meteoric rise and remarkable development, manager Bruno Genesio did not hesitate to start him ahead of the experienced Clément Grenier to make up for the absences of first-teamers Steven Nzonzi and Eduardo Camavinga.
At age 17, against world-beaters like Neymar, Di Maria, Herrera and Danilo, it would be an understatement to say the teenager performed well. He shone like a million stars.
Ugochukwu disposesses Brazilian star, Neymar, on his full debut
In such a high-profile fixture, Ugochukwu lasted an hour but walked off admirably having boasted the:
3rd Most accurate pass percentage of any starter; and
Most tackles completed. 
It was a memorable outing, as Rennes secured a 1-1 draw, a result which proved vital as they scrapped European football with just one point, vindicating the faith of his manager. 
Ugochukwu tackles PSG's Ander Herera in a dominant debut for Rennes
He has since been a first-team regular for the Red and Black, appearing in all of their matchday squad this season. 
Lesley Ugochukwu Style of Play: Box-box
The 1.88m player is described by Rennes' technical director, Florian Maurice, as a "box to box player, with an interesting ability to project himself forward."
The youngster exemplarily demonstrated his maturity in each of his outings with the reserve last year, at the start of the 2020/21 season.
As a defensive midfielder, Lesley Ugochukwu is distinguished by his impressive physique, which allows him to be solid in midfield to halt opposing attacks. He has sometimes earned comparisons with football great, Marcel Desailly, by trainers at Stade Rennes. 
The emergence in Rennes of this new nugget is anything but a surprise. Stade Rennais is one of the best training clubs in France, second in the ranking of training centres behind Paris. But it is the club in Europe that grants the most playing time to young players, with 7129 minutes played by under-20s as of May 2021. 
These dizzying numbers were pushed upwards by Camavinga and his 2277 minutes of playing time last season.
With Ugochukwu's stock rising with every passing game, clubs like Juventus and AC Milan are leading the chase but face great competition from fellow European giants to sign this African pearl. Here are 6 interesting facts about Lesley Ugochukwu you might not know.
6 Facts about Lesley Ugochukwu
As a local, Ugochukwu is a favourite of Rennes supporters
1. Born and trained in Rennes
Ugochukwu is the most Rennes of the 2004 graduating group of the Rennes academy. Born at the Sagesse clinic in Rennes, located just 500m as the crow flies from Roazhon Park, he started at ASPTT Rennes in 2010-2011 and the CPB North-West in 2011-2012, before joining Stade Rennais at the age of 8. 
Before his enrollment into the training centre, he also attended the Moulin du Comte school, which borders the Rouge et Noir enclosure.
2. Nephew to Ex-Nigerian international
The young defensive midfielder, who is also capable of helping out in central defence, is of Nigerian origin. 
With a relative who has played for the Super Eagles, Ugochukwu has strong ties with Nigeria
His family is closely related to former Rennais, Onyekachi Apam, who represented Nigeria at the 2008 Summer Olympics in Beijing. The defender, whose career was significantly blighted by injury, made 25 appearances for the Green-Whites at U17, U20 and senior level.
3. Has Been Approached by the Nigerian Football Federation (NFF) 
Ugochukwu was approached by the Nigerian Federation in 2019 to compete in the U17 World Cup when he was only 15 years old but decided not to follow up. He was then selected for the France U16 team without however honouring his first cap with the young Bleuets.
Super Eagles winger, Ola Aina, with Ugochukwu, the NFF have once tried to cap the Franco-Nigerian
4. Never featured for France in any competitive competition
Although Ugochukwu has captained and featured five times for the Les Blues of France in under-18 friendlies, he is yet to appear in a competitive match at any level for the European nation. 
5. Has a footballer sibling
Ugochukwu has a younger brother, Chibuike, also trained in Rennes.
6. Was a star in 2017 long before his professional debut
Four years before his big impression in Ligue 1, Ugochukwu dazzled in the Elite Harmonie Mutuelle, a tournament in Quimper Kerfeunteun FC, at Creach Gwen Stadium. 
In the final held on February 17, 2017, Ugochukwu and Rennes came up against FC Nantes. Deployed as a striker, the Franco-Nigerian was unstoppable the whole day, forming a lethal partnership with playmaker and eventual Player of the Tournament, Marius Grebo.
Ugochukwu, far left, helped his team to victory in the Elite Harmonie Mutuelle
The formidable duo brought victory to Rennes by a 2-1 scoreline. Lesley showed his speed and power as a centre-forward, leaving defenders for dead with each of his disconcerting accelerations.