Relegated EPL players who could escape demotion
List of Premier League players from relegated clubs that could avoid demotion to Championship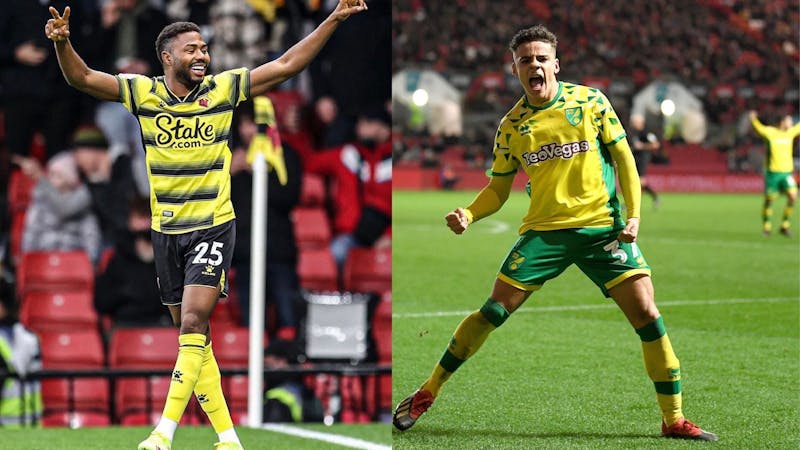 As the 2021 Premier League season is coming to an end, three clubs will be preparing for demotion to the wilderness of the 24-team Championship after putting up a valiant fight throughout the season.
It is fair to say that already-relegated clubs like Norwich City and Watford did everything humanly possible to avoid being relegated, but their efforts were insufficient.
Although these teams have been pushed down to the championship, some individual players outperformed their teammates in the battle for survival, which should not be overlooked.
Being relegated from the Premier League always means one thing: the demoted teams will lose their key players to promoted clubs or other Premier League sides.
Having noted this, let us look at some of the best players who could avoid demotion to the Championship with these relegated teams ahead of the upcoming transfer window.
The rating of these talented players is based on their current season's performance and age.
Emmanuel Denis
Despite Watford being dragged into relegation for the second time in three years, talented Nigerian attacker Emmanuel Denis is one of the incredible players in the 2021 Premier League season.
The 24-year-old has been an outstanding player for the Hornets since he arrived from Club Brugge in the Belgian Pro League earlier this season.
Emmanuel Dennis' release clause with Watford will give other Premier League clubs an advantage in acquiring his services.
In 33 Premier League appearances, the gifted striker scored 10 goals and provided six assists for the club, exceeding his 7.5 goal expectation for the season.
His outstanding November performances, which included two goals and two assists, earned him a nomination for the Premier League Player of the Month award, which was won by Liverpool's right-back Trent Alexander-Arnold.
Though he scored such a high tally and put in some excellent individual performances, including seven big chances and 26 shots on target, it is disheartening to see him demoted after exhibiting such great talent in the Premier League.
The Nigerian striker's contract, according to sources, includes a clause that reduces his release clause to £20 million if Watford gets relegated, which may pique the interest of various Premier League clubs ahead of next season.
Promoted clubs or even other Premier League sides would look to activate his release clause and strengthen their squads ahead of next season.
Ismaila Sarr
Ismaila Sarr is one performer mentioned numerous times by football supporters as a Premier League player even before Watford's promotion last year.
He has been linked with a move to Manchester United in the last two transfer windows, and continues to demonstrate why he is an important player in any team.
Watford would struggle to keep Ismaïla Sarr due to his performances, which could entice many clubs.
Despite his difficult season with Watford, the Senegalese right-winger has been an outstanding performer for the Hornets and his country this year. He helped the Lions of Teranga to the 2021 Africa Cup of Nations and secure the World Cup qualification for Qatar 2022.
In 22 league appearances this season, the 24-year-old scored five league goals, assisted two, and created five big chances for his teammates. His outstanding performance would be reminiscent of his 13 goals as the club's leading scorer in the Championship, which helped Watford gain promotion to the Premier League in 2021.
Ismaila Sarr's consistency is an attribute that other Premier League clubs would find difficult to overlook, as they would take advantage of Watford's relegation to sign the talented winger.
Newcastle United have been linked with a move for the talented winger, but it is unclear whether the Magpies are serious about pursuing him. Sarr is currently valued at €30 million, a reasonable price for Premier League clubs.
Cucho Hernández is valued for €9m, which is a reasonable bargain for Premier League clubs
Cucho Hernández
23-year-old Cucho Hernández is another player who stood out for Watford during their unsuccessful fight for survival. The Colombian international joined the Hornets last season after their promotion to the Premier League.
In 24 league appearances, the talented striker racked up five goals and assisted two, the joint third among Watford players in goals plus assists. Besides his goals, Hernández created five big chances for his teammates this season and had a dribbling accuracy of 54 per cent.
Despite spending only a year at Vicarage Road, Hernández is a young prospect who could be courted by promoted teams ahead of next season.
Max Aarons
Norwich City's right-back Max Aarons was a well-known name during the previous season's transfer window when the club was demoted to the Championship. Following his outstanding performance in 2019, the England U21 international was linked with a move to Barcelona before turning their attention to former Ajax player Sergiño Dest.
Max Aaron's contract with Norwich City expires in two years and he would be eager to return to the Premier League if any club approaches him.
In the current season, the 22-year-old has again proven why he deserves to be on the bigger stage by putting in standout performances. Aarons has appeared in 32 league games for Norwich City, the second-most of any player on the team.
The right-back possesses exceptional qualities that could pique the interest of Premier League clubs, such as a successful tackle rate that borders on the 70 percentile range. He has 148 recoveries and 27 interceptions this season and still has much room to grow as a player.
The battle for relegation
The battle for the third Premier League team to be demoted continues as Leeds United, Burnley, and Everton fight for survival.
With two games remaining, Leeds United have 34 points after a horrible 3-0 defeat against Chelsea, as does 17th-placed Burnley, who have three games in hand.
Frank Lampard's Everton have fought so hard to avoid the historically damaging demotion, grabbing two wins against Chelsea and Leicester City and a draw against relegated Watford. The Toffees are 16th in the Premier League table, with 36 points and two games in hand.
They will host Brentford and Crystal Palace before travelling on the last day of the Premier League to the Emirates Stadium to face Arsenal, who are vying for a fourth place.
On the other hand, Burley will play two away games against Steven Gerrard's Aston Villa and Tottenham Hotspur before their last Premier League outing at Turf Moor. In contrast, Leeds United have only a home game against Brighton and an away trip to Brentford on the last day of the Premier League.