Arsenal deepens their search for a striker with two additional options

By Ernest Sunday
Arsenal is determined to sign a striker this January transfer window and has identified two other options despite interest in primary target Dusan Vlahovic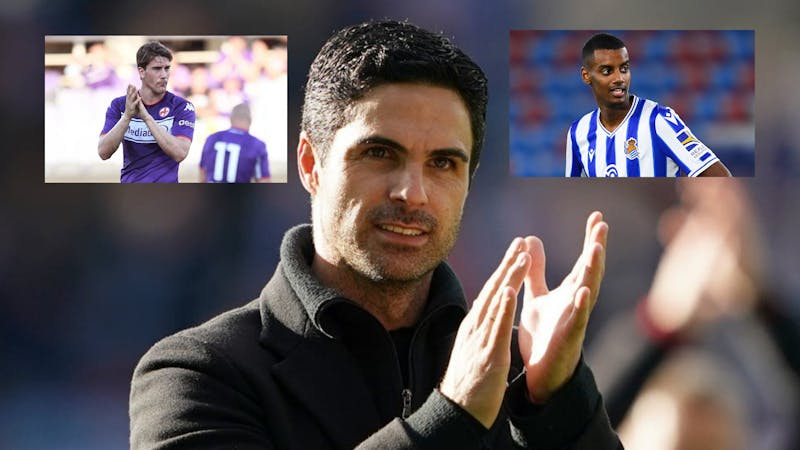 Arsenal's manager, Mikel Arteta, has continued a desperate search for a striker this January transfer window. A report from football journalist David Ornstein revealed that the Gunners are very much interested in signing Dusan Vlahovic of Fiorentina.
Dusan Vlahovic has been linked with a move to the Emirate in the past weeks. Some reports revealed that Arsenal already tabled a lucrative bid for the 21-year-old Serbian striker.
According to David Ornstein, Arsenal is pushing harder to land Vlahovic but would face the challenge of convincing the striker's agent, who he sees as a stumbling block in the negotiation.
"Vlahovic is going to be really difficult. They're pushing hard, or they have been pushing hard. Although I've not been made aware of any progress in recent days," Ornstein said in discussion with Athletic's YouTube channel.
Dusan Vlahovic is also said to be interested in moving to Premier League
"They have indicated it's the sort of level they're prepared to go to. Which you can imagine can only be done with owner support. But it's going to come down to the player and his agent.
"Fiorentina believes that Vlahovic doesn't want to go to Arsenal or Tottenham, and the agent is said to be heavily involved. He has a strong influence over the destination. The Fiorentina/Arsenal bit will not be the problem, from what I hear. The player's side is tricky."
A difficulty in Vlahovic's negotiation means Arsenal would have to look for other options of getting a striker in the current transfer window.
Arsenal's striker options
Despite tremendous interest in signing Dusan Vlahovic, Mikel Arteta also has backup options to make sure he signs a striker before the winter transfer window closes.
According to David Ornstein, the manager has identified Real Sociedad's striker Alexander Isak and Everton's Dominic Calvert-Lewin as their following options if Dusan Vlahovic's deal fails.
"Dusan Vlahovic is their key target for that position, and they have very credible backup options. The likes of Alexander Isak at Real Sociedad and Dominic Calvert-Lewin have admirers at Arsenal," Ornstein said in an interview.
Alexander Isak has only scored 38 goals in 101 appearances for Real Sociedad
Alexander Isak is one of the best developing talents in La Liga and has successfully led the front of Real Sociedad in the past two years. The Swedish international was one of the best attackers in the 2020 Euro.
Isak was a key player for his country despite not scoring many goals in the Euro, creating chances with his pace. Though Isak is not a reliable goal-getter, Mikel Arteta would capitalize on his speed, which is required in the Premier League.
On the other hand, Dominic Calvert-Lewin is a good option for Mikel Arteta as he is already conversant with Premier League games. Last season, Calvert-Lewin was one of the best Premier League strikers, with 16 goals in 33 appearances.
Despite being featured four times in the Premier League this season due to injury, Dominic Calvert-Lewin has scored three goals already, and such a goal-getter is what Arsenal needs to challenge for titles.
Mikel Arteta's worries
Mikel Arteta seems to have lost faith in his current strikers due to their poor stats; the manager now relies on Arsenal's midfielders to win matches, which should be enough to worry about.
Former captain Pierre-Emerick Aubameyang has been unable to deliver for the manager this season; he has only scored four goals in 14 Premier League appearances, a poor stats to lead a team for a title challenge.
Alexandre Lacazette is another striker that has become a nightmare for Mikel Arteta. The manager has left him on the bench on many occasions this season due to his poor stat. Lacazette has only scored three goals in 15 Premier League appearances.
Arteta seems to be worried about using these strikers for the rest of the season, and he is desperately pushing to sign a striker before the January transfer window closes.
Newcastle United are currently interested in signing Aubameyang, and Arsenal would want to cash in on the striker to pave the way for new signings.