Better than Leno? Why Aaron Ramsdale might not be as good as the hype
Aaron Ramsdale has risen from ashes of relegation ground zero to celebrated national hero, displacing Bernd Leno. Should Gareth Southgate drop Pickford as England first-choice goalkeeper?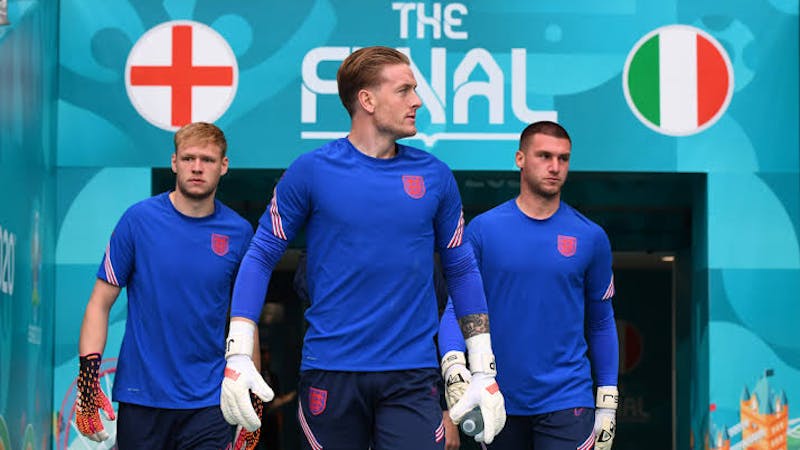 "Aaron Ramsdale for England number one." When throngs of social media users are touting a player's performance, history has shown that such shouts, as ear-piercing as they might seem, could be shrouded in a combustible bubble of ordinary hype. 
But when legends like Peter Schmeichel and Ian Wright hop on the bandwagon to shower their own unfiltered encomium, then such a player has bridged the great divide between fictitious pretender and serious contender.
This is the plight of Arsenal goalie, Aaron Ramsdale, who in just 10 matchdays of English football, has risen from the ashes of relegation ground zero to celebrated national hero. 
By this time last year, Aaron Ramsdale was enduring a torrid start to life at Sheffield United. With his whole 1.91m frame between the posts, his new club would go on to concede in all of their first 10 games, losing 9 and conceding 16.
Three weeks later, they went one step worse by setting an unwanted Premier League record of worst ever start by any English top-flight side after 12 losses in 13 matches.
All through this disastrous ordeal, one man remained a mainstay in this abysmal Sheffield side, Aaron Ramsdale. In fact, throughout the whole 2020/21 campaign, he started all 38 games, with no player in any first league in the world enjoying more minutes. 
At the end of the campaign, his report card read:
63 goals conceded
5 clean sheets
29 losses
Completely smeared in red ink.
So under his saving grace, in what was his one and only season with the club, Sheffield were chevied down to the Championship. 
Sheffield United were relegated with Ramsdale between the sticks
With these horrible stats permanently imprinted on his resumé, it was incredulously shocking, at least to fans, when Arsenal made not one, not two, but three bids to sign the 23-year-old.
So despite suffering an even worse relegation than Bournemouth, from whom they purchased Ramsdale, Sheffield would sell Ramsdale for a profit of almost €10 million. 
For a fee of 28 million euros, Aaron Ramsdale would become the 9th most expensive goalkeeper in the history of football, while Arsenal would become the footballing world's laughing stock.
Ramsdale is currently the 9th most expensive goalkeeper in the history of football despite suffering two consecutive relegations
But the gunners would have the last laugh. After 7 appearances, Ramsdale boasts 4 clean sheets and has conceded only 4 goals, 5 less than his competition Bernd Leno conceded in the first three games.
There is more!
His bright start at Arsenal went beyond numbers and reached its pinnacle in the crunch tie against Leicester over the weekend. With half-time approaching, Ramsdale will produce a stunning save to deny James Maddison's well-struck free-kick before reacting quickest to Johnny Evans' follow-up.
The initial save sent Twitter football into meltdown as fans, neutrals, and rivals struggled to turn the miraculous sighting into writing. His status reached legend-mode when former Manchester United captain and goalkeeper, Peter Schmeichel, rated the save as one of the best.
The acrobatic save left pundits and fans in awe
"Best save I've seen for years by Ramsdale," tweeted the legendary Danish goalkeeper. Incidentally, Peter's son, Kasper Schmeichel, was manning the opposition goal for Leicester.
Arsenal legend, Ian Wright, on his podcast, Wrighty's house was also not mincing words:
"He's 24 and has had two seasons of making saves in teams that have gone down," said the honoured Englishman.
"Now, Arsenal are reaping the benefits of the experience he has. The ceiling on this guy. He is unbelievable in the dressing room."
Five days before the win, Ramsdale had also thrown down the gauntlet at Pickford to be England's number one:
"Hopefully I can be a part of the team again and hopefully that'll be to do with a starting role," he claimed.
After his heroics at the King Power, he reiterated his stance but in a more diplomatic fashion:
"A lot of people in the news say that I've set my sights on England No.1 and stuff, and of course that's the end goal," he told Talksport. 
"It's going to be very hard. Jordan's been phenomenal for England. I thought he was one of, if not the best player for us at Euro 2020."
But with English fans unsatisfied with Jordan Pickford, and other English goalkeepers playing at lower levels, should Gareth Southgate pick Aaron Ramsdale as England's first-choice goalkeeper over Jordan Pickford?
Should Ramsdale be England's Number One? 
Fans have been calling for Gareth Southgate to pick Ramsdale as England's number one
Of all things Ramsdale has ahead of the pack, the primary standout is that he plays for a more competitive and valuable club than any other English goalkeeper; at least on paper.
While Jordan Pickford plays for ambitious mid-table Everton, Sam Johnstone is at second tier West Brom, Nick Pope plays at struggling Burnley, and Dean Henderson cannot get a game at Manchester United.
History has also shown that the status of a club will always be a mitigating factor. Pickford's closest shave with losing his spot came when Dean Henderson was getting consistent game time at Man Utd. 
However, Arsenal have fallen by the wayside in recent years and finished just two points above Everton last season, which raises questions about the team's current competitiveness. 
Despite popular belief that they are enjoying a fine campaign, Arsenal currently sit just three points above the Merseyside outfit, who, by all account, are having a 'horrible' season.
In fact, while other top sides in the division entertain loftier goals, Arsenal's ambition perfectly align with that of Everton, which is to qualify for Europe at the end of the season.
This shows that unlike their "Big 6" tag suggests, breaking into the Arsenal squad is not as difficult as postulated. 
Is Aaron Ramsdale better than Bernd Leno?
Currently, Ramsdale boasts the 4th best clean sheet per game ratio in the whole of Europe's top league; however, his fine form is not down to just individual brilliance. 
In his 7 appearances for Arsenal, Ramsdale faced 28 shots at a rate of 4 per game. On the other hand, German goalie Bernd Leno faced a whopping 18 shots in the first 3 games of the season, a palm-shattering rate of 6 per game.
Why did the shots faced drop so significantly?
In the first three games of the season, Mikel Arteta altered his defence five times, including a complete formation change to 5 at the back against Manchester City. 
However, since Ramsdale made his debut against Norwich up until the game against Leicester, a total of 7 games, only one change to the defence has been made: Nuno Tavares for the injured Kieran Tierney.
This means Aaron Ramsdale has enjoyed:
First, stability in defence, which has had him get accustomed to the players in front of him.
Secondly, the defensive trio of Gabriel Magalhaes, Ben White and Takehiro Tomiyasu first debuted against Norwich, which was coincidentally Ramsdale's debut. Since then, all three have never left the starting line-up. 
All this points to one direction, Ramsdale might be doing a great job, but he is benefiting heavily from the defensive shield ahead of him.
To put this into perspective, in all of Ramsdale's 7 appearances, Arsenal's new look defence allowed only 8 clear-cut chances, which is just over the rate of 1 per game. 
Contrastingly, in Bernd Leno's 3 appearances, the old guard of Pablo Mari, Holding, Kolasinac, Chambers and Cedric allowed 14 clear-cut chances, an unbelievable rate of 4.67 per game.
This lays bare the mitigating factor: Aaron Ramsdale has performed well purely because of the reinforced rearguard, while his competition, Leno, was made scapegoat for the former mediocrity.
An easy ride
Bernd Leno has faced two of the top 3 teams in the league
Two of the 3 opponents that Leno has faced in the league this season are not only the leagues most scoring teams but are also placed top 3 on the EPL log. 
On the other hand, none of the 7 opponents that Ramsdale has duelled against are currently in the top 7 of the EPL, nor have any scored more than 15 league goals.
Additionally, in 2 of his 3 years with Arsenal before 2021/22, Leno finished with one of the highest save percentage in the whole of Europe's top flight.
Spectacularly, in those two seasons combined, Arsenal conceded the most chances (SoT) of any Premier League side, yet Leno ended both seasons as 2nd and 4th best shot-stopper in England. 
One for the future, but criminally overrated
While 7 games aren't enough to downplay the quality of a player, it is also not enough to propagandize and draw high-sounding theories on the current ability of a footballer. 
Players like Pickford and Leno have proven their qualities over extended periods of time with positive track records that Ramsdale can only dream of.
The 23-year-old is no doubt a great potential and a future England starter, but he is currently a recipient of Arsenal's global visibility as a top team. 
While Pickford is quietly doing what he has always done for close to a decade without much fuss, Ramsdale is enjoying Arsenal's supporters intense desperation for a hero. One they have been deprived of in the last few years. This is also not helped by him being English.
But it's important to keep note that when the big guns come to town, the boys will be distinguished from the men.
And in the blink of an eye, the hero they so badly yearned for could become the villain they hate to see.