Stats show EPL club has never won in their HISTORY without this Super Eagles star
Filming the Premier League round of 27, new statistics have revealed the irreplaceable importance of a Nigerian player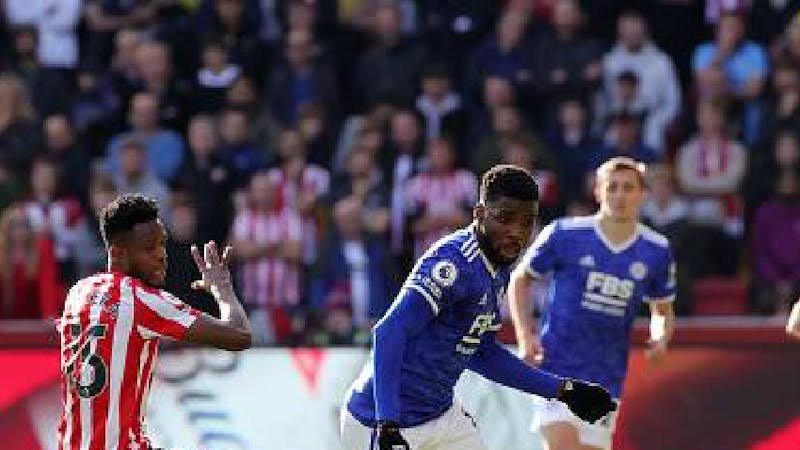 As the best league in the world, the Premier League is renowned for its encompassing diversity which today sees at least 65 nationalities being represented. 
One of those nationalities which can boast of having world popular stars is Nigeria, although not necessarily world beaters. Out of the 9 current representatives of the African giants, only Wilfred Ndidi and his consistency can stake a claim as part of the very exclusive list of world-class players. 
However, new statistics unearthed by ZonalSports shows that a particular Nigerian has so changed the dynamic of his team that they have never won in their history without the Nigerian playing.
This new fact became even more glaring after the Nigerian was consecutively subbed since returning from AFCON duties.
That player is Brentford's Frank Onyeka, who was recently signed from Danish giants Midtjylland in the summer transfer window. 
The Nigerian has appeared 22 times for his new employers, overseeing 9 wins in all competitions for the modest club.
Whenever Onyeka plays, the club accrue an average of 1.22 points per game, the highest ever ratio in Premier League history among any Brentford player to have appeared at least 7 times.
In his absence, this average plummets to a shocking ratio of 0.22 per game, with the club losing 7 and drawing 2 of the 9 games the Nigerian has missed. This means that all of Brentford's 6 wins in the Premier League era have come in Onyeka's presence. 
Interestingly, the player has been relegated to the bench since his return from national duties starting just one of the team's subsequent 4 matches. This is despite Brentford enduring a four-game losing run in all of the matches in which the Nigerian was absent. 
On the back of this poor run of form, Brentford have fallen from 9 points clear of the relegation zone from Onyeka's last game before AFCON to just 3 points having played 2 games more than their rivals. 
Who is Frank Onyeka?
At 18, Frank the Tank, as he is fondly called, moved to Denmark to join Danish club FC Midtjylland.
He began his journey in Europe with FCM's U19 team, and the young player, who had previously spent a few years at the academy of Nigerian partnership academy FC Ebedei, experienced both football and human transformations.
"It was difficult for me to move to a completely different country. It was cold and a lot of new people around me, but fortunately there were many who helped me a lot especially in the beginning," said Frank Onyeka, who experienced fresh obstacles on the pitch.
"Both tactically and technically, football was very different. In Nigeria, it was mostly about running and playing for two goals. 
"So when I came to Denmark, it was new for me to have so many exercises with the ball, and there were also a lot of tactical things in the training.
"With the help of my teammates and many good coaches, it quietly got better, and I was able to adapt to the new way of playing football," he stated.
Frank Onyeka demonstrated his potential only six months after arriving in Denmark when he accomplished his first European duty with flying colors. In a Youth League encounter against Anderlecht, which at the time was a very powerful U19 squad, the Nigerian was everywhere.
FCM went on to win 3-1, and Frank Onyeka would go on to become a significant figure at senior level. In 2020, he played in all ten qualifications and group matches as FC Midtjylland qualified for the Champions League for the first time.
However, going from Nigeria to Denmark was not without its challenges; fortunately, Frank Onyeka's Danish foster family aided in the transition.
"I remember that I just had to get used to the food in Denmark. It was also completely new to me. There, my host family was important to me. They were good at cooking, reminiscent of what I was used to from home, and quietly it became all everyday for me – thanks in part to them," said a satisfied Onyeka. 
"My host family and I have a strong bond. They have had a great impact on the fact that I have had a good time all those years in Denmark, and I will always be grateful for that. We still talk a lot together," he concluded. 
Onyeka played its first match in the 3F Superliga a year later, on a frigid February day in Horsens. Many Central Jutland fans recall his late goal in the game to make it 2-0 after an incredible dash up the right wing.
"It was a huge moment. Before that I was very nervous, because now it was a league match, but luckily it went well. It's something I'll never forget," noted Onyeka .
The Nigerian made his breakthrough in the greatest Danish series in 2018, where he was used in a variety of roles.
By the start of the 19/20 season, he had established himself as a reliable regular and starter, securing the DM spot.
"In my first time on the first team, I played a lot of different positions, and it could be a little difficult. When I became a solid starter in central midfield, it gave me a lot of confidence because it was and is my natural position. Now I could really show what I could on the field," pointed out the Nigerian.
Since then, the midfielder hasn't looked back, and has been more than a critical vacuum cleaner in midfield for FC Midtjylland in 123 appearances. He's also been good on the ball, something he attributes to a lot of studying at the club. 
"The coaches and my teammates – especially Erik and Scholz – have been important for my development. They have been good at telling me what to do as a six and that has undoubtedly made me better," said the Premier League player.